Children with disabilities in Pakistan is the largest overlooked minority. There are no clear estimates of the number of children in Pakistan with disability. According to the World Health Organization (WHO), 15% of the world's population has disabilities (around 1bn people). If we take the world average and apply this to Pakistan, the number of persons with disabilities could be approximately 27m, larger than the total resident population of Sweden, Austria and Switzerland combined. The number may be more owing to the poor health care facilities and poverty. The disability need not to be the physical disability but also encompasses the intellectual disabilities and the social-communication and other behavioral disorders. There is a huge need for the provision of support to the families raising these children.
Mission
Excellence in children's rehabilitation and development through innovative clinical service, based on rehabilitation sciences.
Vision
All children and youth receiving services from the Paeds Development Unit will have the opportunity to discover and achieve their full potential to promote a family-centered approach towards the children with disabilities (physical, intellectual, social-emotional and language delays), in which families will actively participate in the assessment.
Values
We value and respect Children, Youth and their Families
Family Centered/Family Driven Services
Diversity, Inclusivity, Cultural Safety and Equity
Advocacy for Children, Youth and Families
Integrated, Collaborative Service Delivery
Service Excellence
Innovation and Responsiveness
Client Safety
Efficiency, Effectiveness and Accountability
Quality Improvement
Research and Evidence Informed Practice
Staff and Volunteers
Healthy and Respectful Workplace
Engaged Staff and Volunteers
The team Specializes in working with children who have the following disorders and conditions:
Developmental delays
Autism
Sensory Processing Disorders
Attention Deficit Hyperactive Disorder (ADHD)
Cerebral Palsy
Down Syndrome, Hypotonia /Low muscle tone
Brain Injuries
Feeding Disorders
Expressive and Receptive Language Disorders
Articulation Disorders, Stuttering and Fluency Disorders
A Multidisciplinary Approach
Our team specializes at figuring out why a child is struggling with:
Developmental skills
Behavior and attention
Speech and language
Feeding and sensory processing
We help parents to understand where the problems are coming from so that we can work as a team to help each child reach his or her potential.
Team Members
Paediatric Neurologists
Paediatric neurologists deals with children with development delays and remain the centre point of the multidisciplinary rehabilitation team involved in the management of the children. Paediatric neurologist also diagnoses and manages the co-morbidities associated with the developmental delays. Read More...
Clinical Psychologist
A child psychologist is a mental health professional who uses psychological evaluations and various forms of therapy to help children and adolescents learn to better cope with life and relationship issues and mental health conditions. They can help treat mental, emotional, social and behavioral health conditions.
Occupational Therapists
Occupational Therapists help children develop the necessary physical, cognitive, sensory, fine motor development and visual motor skills so that they can perform daily task independently, needed for more functioning and socializing.
Speech Therapist
Speech Therapists or Paediatric Speech Language Pathologists (SLPs) deal with the treatment of communication disorders, voice disorders, and swallowing disorders in children. Paediatric Speech Language Pathologists (SLPs) help young patients overcome and manage these disorders, contributing to a higher quality of life for these children. Not every issue involves speech. Some patients need help with social communication difficulties, literacy impairments, or cognitive impairments, among others. A Paediatric SLP will also play an integral role in diagnosing and treating autism spectrum disorders.
Physical Therapists
Paediatric Physiotherapists are specialized in assessing, identifying, diagnosing and managing children with physical disabilities and motor delays. They make an important component of the team dealing with developmental delays, working towards achieving the realistic goals.
Paeds Neurologist Assessment
Speech Therapist Assessment
Behavior Therapist Assessment
Occupational Therapist Assessment
Physical Therapist Assessment
Total Charges (PKR)
PDU
Assessment
(02 Sessions)
Included
Included
Included
Included
Included
7500
| Packages | Speech Therapy | Behavior Therapy | Occupational Therapy | Number of days | Total Cost (PKR) |
| --- | --- | --- | --- | --- | --- |
| PDU-1 | Included | Included | Included | 1 | 3,000 |
| PDU-2 | Included | Included | Included | 3 | 5,000 |
| PDU-3 | Included | Included | Included | 7 | 10,400 |
| PDU-4 | Included | Included | Included | 15 | 24,000 |
| PDU-5 | Included | Included | Included | 30 | 45,000 |
• The validation of 15 days and 30 days packages will be 3 months.
• Prior approval will be required for the Company panel patients.
Frequently Asked Questions
Faculty
Dr. Raman Kumar
Unit Head of Paeds Development Unit Assistant Professor & Paediatric Neurologist
View Details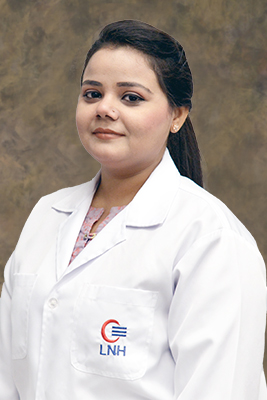 Ms. Nida Anjum
Occupational Therapist II
BSc (Occupational Therapy)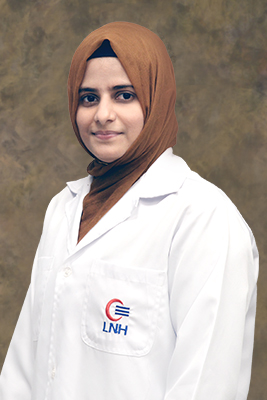 Ms. Noureen Fatima
Lecturer II/ Physiotherapist II
Doctor of Physical Therapy (DPT), M.Phil. in Physiotherapy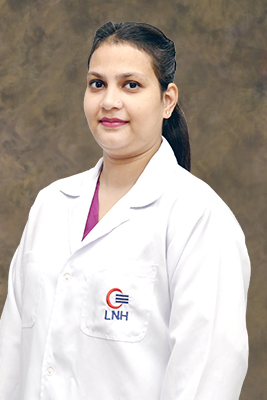 Ms. Samreen Qureshi
Occupational Therapist II
Doctor of Occupational Therapy, BS Occupational Therapy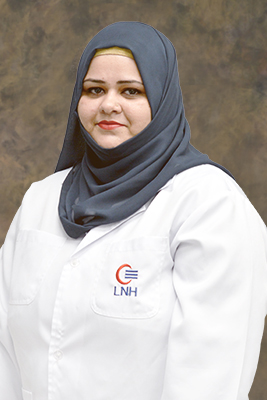 Ms. Syeda Aniqa Zaidi
Speech & Language Therapist
MA Audiology & Speech Language Pathology
Contact
Please call us on 021-34412302.
Email Paeds.Neurology@lnh.edu.pk.
Multidisciplinary evaluation of the children Friday & Saturday 1:30 pm - 4:30 pm.
Report discussions Friday & Saturday 1:30 pm - 4:30 pm.
Location Senior Citizen Primary Care Unit.